Remtech Providers In Asia You Need To Know
by Fintech News Singapore
May 19, 2017
Remtech, the contraction of the words remittance and technology, refers to the use of digital channels and platforms for international money transfers.
The increase in use of mobile phones and technology is providing an avenue for fintech developments in remittance. Tech-focused startups are attacking the US$400+ billion remittance market and putting pressure on large incumbents such as Western Union, which currently controls a ~15% worldwide market share.
Online remittance, as compared to conventional money transfers, is highly cost-effective, simple and flexible. Some, such as TransferWise, are re-imagining the international money transfer business by offering clever new ways to send money from one location to another.
In the case of TransferWise, the London-headquartered company offers a peer-to-peer system that enables cheaper and faster international money transfers. The company recently expanded its footprint in Asia-Pacific, announcing in April the opening of a regional office in Singapore.
Developing countries heavily rely on remittance flows, which totaled US$429 billion in 2016. In the first quarter of 2017, the global average cost of sending US$200 was 7.45%, a figure that needs to be reduced and which is posing a major challenge in certain regions, according to the World Bank.
The UNCDF's SHIFT Challenge Fund is currently supporting ideas that have the potential to improve financial inclusion and women's economic empowerment in countries that include Cambodia, Lao PDR, Myanmar and Vietnam. The SHIFT Challenge Fund Facility will award the best ideas with grants ranging from US$100,000 to US$300,000.
Separately, the UN is also involved in the upcoming Remittances Innovation Awards (RemTECH Awards). The awards ceremony will be held on June 15 at the Global Forum of Remittances, Investment and Development in New York City.
A Santander memo leaked to Guardian Money in April unveiled that the bank has been charging six times more than new competitors. But as fintech thrives, banks and traditional overseas money transfers providers should be wary these new entrants are poised to take a piece of the cake.
In Asia, a few players are standing out. Here's our selection of some of the Asian remtech startups in the region to keep an eye on this year.
SingX
Singapore's SingX, which aims to be the "Airbnb of global payments," launched its online remittance platform in February this year. The platform charges consumers a transaction fee of 0.5% of the amount to be transferred, a much lower fee when compared to traditional providers. It currently supports transfers from Singapore to India and Malaysia.
The company is backed by DBS Bank's former managing directors Rajan Raju and Edwin Khoo who serve as SingX's advisors.
"Cross-border payments is a space which is ripe for disruption as currently consumers and SMEs end up paying too much in remittance charges to existing providers," said Atul Garg, SingX's founder and CEO, and a former banker at American Express and Bank of America. "SingX wants to create the Airbnb of global payments with Singapore's first peer-to-peer foreign exchange platform."
Chynge
Chynge is a fintech startup based in Singapore that provides a liquidity marketplace for cross-border payments that ensures regulatory compliance, attractive rates and fast delivery.
Users need to get verified before being able to send remittances through the app. For that, they need to enter their information, and then visit a remittance office for a one-time face-to-face verification with a teller.
The Chynge app was launched in Q2 2016, and the company has already handled more than S$2 million in gross transaction volume. Last year, it opened a shop in Vietnam and Malaysia, expanding its remittance network which already included Singapore, Indonesia and Australia.
TNG Wallet
TNG Wallet is Hong Kong's leading digital wallet service serving around 5% of Hong Kong's population. In September 2016, the firm launched several new features including Global Money Transfer, Foreign Exchange, Global Bill Payment, and Global Mobile Air-Time Top-Up.
The Global Money Transfer feature lets TGN users transfer money from their TNG app to over 800 banks across 12 countries. There is no transaction fee for users and TNG guarantees "very favorable exchange rates."
Once identification is verified, recipients can withdraw cash immediately at more than 190,000 cash pickup points.
Ayannah
Ayannah is a leading fintech startup from the Philippines specializing in digital commerce and payments services for the unbanked. The firm operates several brands include Sendah, a B2C gift remittance service for migrants serving over 50,000 customers, Sendah Remit, a bank grade software-as-a-service platform that allows interoperable international and domestic remittance transactions across different networks, and Sendah Direct, a B2B payments service.
Ayannah won the Fintech Finals 2017 startup competition. In February, the firm launched a new artificial intelligence-powered credit scoring system called Juan Credit targeted at the unbanked.
Toast
Singapore based, Toast is a peer-to-peer money transfer application that allows Filipinos in Hong Kong and Singapore to remit money to the Philippines from a smartphone.
By leveraging blockchain technology, Toast offers a fast and inexpensive way to transfer money internationally for much less than via banks or remittance shops. The company also works with existing local remittance stores and kiosks to help recipients collect money in cash.
Toast has a Money Changing Remittance Business license from Singapore, and a Money Services Operator license from Hong Kong.
Rebit.ph
Rebit.ph is an online platform for remittances operated by Filipino Bitcoin startup Satoshi Citadel Industries. Similarly to Toast, Rebit.ph leverages the blockchain to enable fast and affordable cross-border money transfers.
The platform enables users in North America, Europe, Asia and other parts of the world, to send money to the Philippines. Recipients can receive the funds via bank transfer, or cash pickup at a local pawnshop or at the company's headquartered in Makati.
Rebit.ph doesn't charge any fees; only third-party fees apply for payouts.
Bitspark
Launched in late-2014, Bitspark, a bitcoin remittance startup offers end-to-end cash remittances using bitcoin. The startup is targeting emerging markets, with a particular focus on Asia. Bitspark has already deployed its service for remittances between Hong Kong and the Philippines, and also between Hong Kong and Indonesia.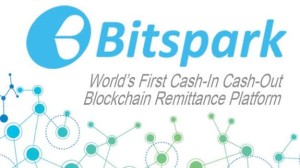 Its selling point is that users do not need to have knowledge of bitcoin. Although bitcoin does serve as the primary medium for transactions, it never enters the equation for the customer. Users don't need a bitcoin wallet nor a bank account, actually
Bitspark connects offline businesses (corner store remittance shops) and online business to "unbanked customers" via its on-the-ground network providers. As of the commission fees, Bitstark charges less than 1%.